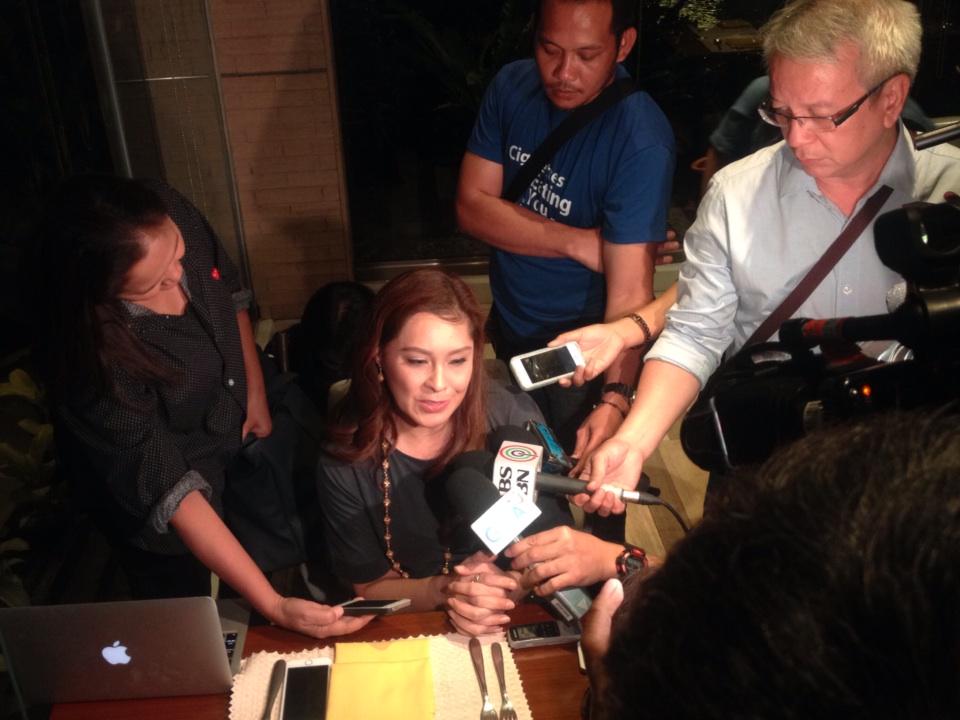 This is terrible, can't Sheryl Cruz have her own opinion? This is a free country. If the supporters of Grace Poe are the ones behind the harassment, can you imagine what would happen to the Philippines if Grace Poe wins? It will be like "martial law".
To know more, read the ABS-CBNnews.com story shown below or click the link to go to the ABS-CBNnews.com page.
FULL VIDEO: Sheryl Cruz opens up about 'harassment'
ABS-CBNnews.com
Posted at 09/23/2015 1:36 AM | Updated as of 09/23/2015 4:49 AM
MANILA - Actress Sheryl Cruz decried the "harassment" she has been allegedly receiving since opening up about her reasons for not supporting the 2016 presidential campaign of her cousin, Senator Grace Poe.
Last September 17, Cruz was quoted in a Manila Standard report that she was against her cousin's presidential bid. She claimed that Poe would make a better president in 2022.
In an interview with reporters at the sidelines of a press conference for the upcoming "Felix Manalo" film held Tuesday, the 41-year-old Cruz said that her long-time talent manager, Rams David, had been forced to resign because of the pressures to "keep her silent."
She also said that her long-time advocacy "Paper for Now" --a foundation that aims to provide livelihood by making stylish items out of paper weave --was closed for reasons unknown to her.
Cruz did not give any names behind the alleged harassment.
"I am entitled to give my own opinion just like everybody else," Cruz said. "I supported my cousin throughout her 2013 run. Halos ako nga ang pumunta sa buong Pilipinas para i-representa siya. Kung hindi ako naniniwala sa kakayahan niya, bakit ko gagawin iyon?"
According to Cruz, the 47-year-old Poe should first make her mark as a senator before gunning for the highest position in the country.
She said that it was the same sentiment of Senator Sergio Osmeña, whom she admitted knows more about the subject.
Cruz then stressed that she is not speaking to vilify her cousin, but rather exercising her right to be heard as a legitimate taxpayer.
She also denied being used by other presidential candidates Vice President Jejomar Binay and Liberal Party standard bearer Mar Roxas.
"I'm reserving my support for whomever candidate na nakikitang kong nararapat at dapat mamuno dahil maayos siyang tao at isa pa, ang puso niya ay para sa mga mamamayan, pati sa mga bata, at sa mga ina, at sa mga single mothers na tulad ko. Siya ang aking susuportahan ko," she said.
'We are not sisters'
Cruz also denied persistent reports claiming that she is a biological sister of Poe. She admitted that she has been repeatedly hurt by the rumors saying that her mother, former actress Rosemarie Sonora, had an extra-marital affair.
"I'm taking it upon myself to defend my mom as any child would do who loves their mother. ...Sinasabi nila sisters kami. No. We have different mothers and we have different parents. Respeto na lang sa aking ina," she said.
Poe was a foundling before she was adopted as an infant by the late film icon Fernando Poe Jr. and wife, veteran actress Susan Roces.